Thank you for an amazing 2013.
Dear Friend,

Looking back over the last year, we have so much to celebrate in our movement to end childhood hunger in America.

We made this video to give you a snapshot of what you helped accomplish in 2013. Take a look — it's truly amazing!

Thanks to you, more kids are getting breakfast before school and meals in the summer when school is out. And we're equipping families with essential skills to cook and shop on a budget.

The accomplishments of this movement and our supporters are many. Thank you for sharing your strengths in this fight and changing the lives of families across the country.
Sincerely,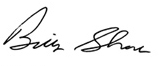 Billy Shore
Founder & CEO


Unsubscribe from receiving email, or change your email preferences.