Chuck "Longboard Tramp" Swafford and Ruben Duran are longboarding the United states 2013 for Hungry Youth!!!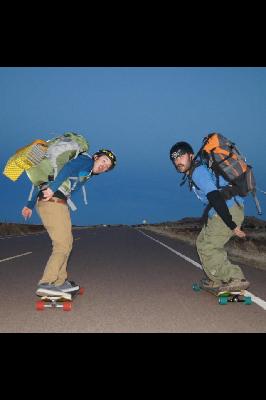 Keep track of Chuck and Ruben's progress!
Send Chuck and Ruben a message of encouragement!
Visit Chuck's "Longboard Tramp" page here facebook.com/ltramper
Visit Ruben's Facebook Group Page by clicking here!
Big thanks to DEVILLE SKATEBOARDS for helping make this all possible.
Visit www.Skatedeville.com today!
Follow two brothers on their journey of a lifetime. The journey to help end child hunger. Chuck "Longboard Tramp" Swafford and Ruben Duran with the support of Deville skateboards are skateboarding across the United States in order to benefit hungry children across America.
The trek will start April 22, 2013 in Portland, Oregon. They will be camping most of the way and may even be doing a little bit of couch surfing, who knows? Chuck's route will follow the Trans American Highway along with a bit of the Pacific Coast Highway into the Rockies. Ruben's route is the Northern states headed east.
FOLLOW THEIR ADVENTURE FOR A GOOD TIME and please consider making a difference to hungry youth by contributing to their cause TODAY!!!
No child in America should be hungry. This year, in the U.S.A. alone, more than 16 million children will be forced to face the fears in dealing with hunger. That's one in every five children.
"Share our Strength" and "No Kid Hungry" are working hard to connect hungry kids with the food they need in order to grow and thrive. Chuck and Ruban are sharing their strength by longboarding the United States in order to help hungry children get the healthy food they need every day. You can help, and here's how...
Simply donate $1 to this worthy cause.
Every dollar you donate will make a huge impact for hungry youth in America. In fact, just $1 can help connect a child with 10 meals.
Will you help Chuck and Ruben reach their goal by sharing YOUR strength and donating simply $1 TODAY?
THANK YOU FOR VISITING!!!