Paddle Monster Virtual 5K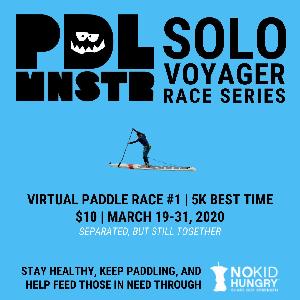 This is a rapidly developing situation. For the most up-to-date information, check local, national and international resources like the Centers for Disease Control and Prevention (CDC) https://www.cdc.gov/coronavirus/2019-ncov/index.html and World Health Organization (WHO) https://www.who.int/health-topics/coronavirus regularly. This story will be updated as new information becomes available.
COVID-19 or the Novel Coronavirus
We'd be remiss if we didn't acknowledge what surely is on everyone's minds at the moment – COVID-19 or the Novel Coronavirus. Like you, we're concerned for our personal health and that of family, friends and those dear to us. And of course, the measures being taken to limit the spread of the virus are affecting all of us.
It's not our position to offer information or advice related to the virus. How you choose to live your lives over the coming weeks is your personal decision. We encourage you to be vigilant and to base your decisions on information from experts like those at the World Health Organization, the Center for Disease Control, state and local health authorities and your family health care professionals.
Why paddle? Why a Virtual Race?
While we understand that if you're training with race goals in mind, there is no certainty at this point whether or not those races are even going to be held. We believe that most of us paddle not for the races, but for the love of paddling itself. Paddling is something that provides us not only with fitness but mental health and clarity as well. Being on the water can be a way to find temporary sanctuary from things happening on land. When we paddle, it represents the chance to get away from the stresses and pressures of life for an hour or so.
If you will be paddling as a part of our training, this Solo Voyager Series, or for any other reason, please paddle with sufficient isolation from others. When people get together and someone sneezes or coughs, droplets get onto people, their clothing and objects they touch. When they then touch their face, they can be exposed. We want you to avoid this. The best plan for paddling right now is to go out and paddle solo, or paddling while keeping plenty of distance between you and the next person when you're on the water. Authorities are recommending keeping a minimum distance of 6 feet or 2 meters and not gathering in groups of more than 10 people. Anyone who has been exposed to the virus or who is showing symptoms, should not participate in this or any activity and should immediately seek appropriate medical attention. All of this, again, is subject to change. We can't stress enough how important it is to keep abreast of the latest CDC, state, local and WHO updates. We do not want to make a bad situation worse, so be prudent.
This is only a challenge for those who can access water safely and according to local, state and federal laws during this pandemic
We recognize that many people can not safely or legally access water in their area. If that is the case, we're sorry to say, this virtual event is not for you. Some beaches in Florida, for instance, have been closed and some National and State parks have also been closed to public access. Follow your local, state and national laws and recommendations.
If you can access water and paddle, this is a virtual race that gives you an opportunity to train, paddle and help those in need
Virtual Paddle Series Race #1: March 18-31
This race is a time trial race. You can upload your best 5k time via our event app or by uploading your Garmin data file. You can upload 5k results as many times as you want. Every time you upload a new attempt, your new time will replace the old one.
We will have a leaderboard on Paddle Monster showing the times for each category. That way, you can see where you are in your craft category versus people around the world.
The race ends on March 31st at midnight EST and the winners will be announced on Paddle Monster.
How it actually works
Register on the site here: https://revorace.com/event/400/
Pay the $10 entry fee. Net proceeds go to No Kid Hungry.
Download the app on the Apple Store or Google Play or use one of these approved devices that supports exporting a".GPX" file.
Paddle your 5K (make sure to have a PFD and appropriate leash)). Here is a quick reference from the ACA for SUP safety gear
Upload the file via the app OR go home and upload your data to the platform here by selecting "Submit Results" and following the provided steps.
Whether you are racing or not, please consider sharing or donating more at our fundraiser page here by selecting the "Donate" button.
Paddle Craft Categories
We are supporting the following classes:
SUP (Race, Hull Displacement, Recreational)
Prone
Surfski
OC-1
OC-2
Erg
This is a pilot program and the first of many virtual races to come in the series
We recognize the many ways in which people can paddle that can make their times unnaturally fast for the craft they paddle. We recognize that downwind and current-assisted 5Ks will be faster. So will riding a boat wake. So will recording while driving a jetski. And there will always be those who will assume the worst in people. We know the limitations and are working with our platform to find a way to level the playing field. This virtual race will give us experience and data toward that goal.
For this first race, keep an open mind and a clear conscience.
The goal: find water without current, with as little wind assistance as possible. In track and field, the maximum legal wind assistance is 2.0 meters per second. We will not set limits because this is for fun, but you know if you're on a downwinder, so... come on people.
We will highlight the winner in each class and celebrate them with a feature on Paddle Monster. This is a bragging rights event. Future races in our series will develop and evolve and grow.
About No Kid Hungry
No Kid Hungry is a national campaign run by Share Our Strength, a nonprofit working to solve problems of hunger and poverty in the United States and around the world. We chose this charity during this trying time to help provide meals to those who are hungry. This is a national charity with a great reputation and seems like one of the best ways for us to help during this pandemic.
We will donate all net proceeds to this charity after administrative costs associated with hosting the event on this platform. Paddle Monster, Inc. will not profit from money raised during this first virtual 5k race.
Thank you and good luck!
We'll be on the water in the coming days and hope you, after giving it careful consideration, find a safe way to keep enjoying the thing you love—paddling. If you decide to join us, it might be just what you need to help you cope with everything going on around you.
We'd like to extend our best wishes for continued good health for all of you and your family and friends. Our pledge to you is to continue to strive to help make your paddling experience more fulfilling and enjoyable.
The Paddle Monster Team
View More
Supporters
Paddle Monster Virtual Race Entries
$498