Ending Childhood Hunger in America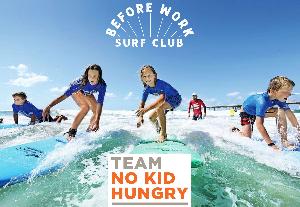 1 in 7 children in America is facing hunger. At Before Work Surf Club, we find this unacceptable. So BWSC is fundraising for No Kid Hungry because we want to end childhood hunger in America. We also think the groms are what's important to the future of our sport, sustainable practices, worldly choices and much more. Luckily there's organizations like "No Kid Hungry" that help the youth in the world, and we want to join too. We're donatng 10% of all online sales from now through May to our fundraiser. Feel free to support us by giving a donation connect kids to meals. Roughly $50 can connect kids to 500 meals but any donation amount is greatly appreciated.
Check out our site at beforeworksurfclub.com to check out some gear!
View More
Supporters
Before Work Surf Club online sales Week 1
Before Work Surf Club online sales Week 2