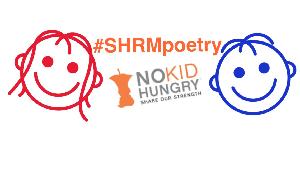 #SHRMpoetry
~This is the 4th year that a No Kid Hungry event is taking place at
SHRM National Conference~
Please join this year's sponsors:
Dovetail Software, Quantum Workplace,
Broadbean Technology, and Branded Strategies
as we slam some poetry and raise $money$ in an effort to eradicate hunger in the US. Every day, children end their day hungry. We can help change that.
Watch and follow #SHRMpoetry on Twitter, Instagram, and Facebook to find out how you can help or participate.
A poetry slam will take place on June 29th, 5:30-7:30pm in Las Vegas at SHRM to raise not only awareness but funds to end childhood hunger. RSVP for this event here!
No child in America should grow up hungry. But too many kids in our country don't have the food they need to thrive.
We are helping end childhood hunger in America by supporting the No Kid Hungry campaign. No Kid Hungry is connecting kids all across the country with healthy food where they live, learn and play.

Every $1 you donate can help connect a child with up to 10 meals - please give what you can!

No kid in this country should EVER grow up hungry.

Will you help us end childhood hunger?
Again, join us for our Poetry Slam event on June 29, 5:30 - 7:30pm RSVP Here
View More
We're Ending Childhood Hunger in America — And You Can Help
COMMENT
View More

Team Honor Roll
SHRM Poetry Auction
$1,152
Lauren 'Laurie' Ruettimann
Ms. Joni Thomas Doolin
$100
Mary Catherine Sexton
$100
HR Wallet-Returning Hero!!
Recent Donors
SHRM Poetry Auction
Matthew Stollak
John Sumser
Kathleen Gorman
Lauren 'Laurie' Ruettimann